Each 23andMe account is associated with an email address. You must confirm your ownership of the email address used to create your account and your ability to receive messages at that address. You are required to confirm your email address during the creation of a new account, or if you had not previously confirmed your address on an existing account. You will also need to confirm your email address anytime you update your account email.
New Account | Updating an Existing Account | Troubleshooting
Confirming a New Account
If you have started creating a new account, you will be prompted to confirm your email address before being able to register a kit. After entering your new account information, you will see the following message: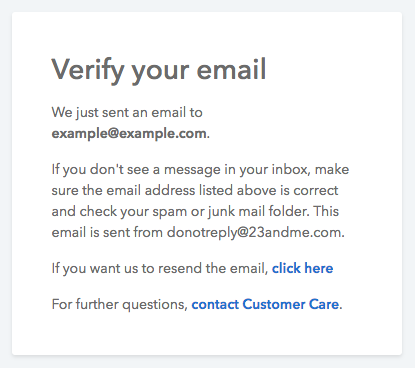 An email titled "Finish Creating Your Account" will be sent to your email address. Account-related emails are addressed from donotreply@23andme.com. Follow the prompt in the email to confirm your email address and activate your account.
Updating an Existing Account
Email confirmation is also required if you change the email address associated with your account. You can change your email address from the Settings menu.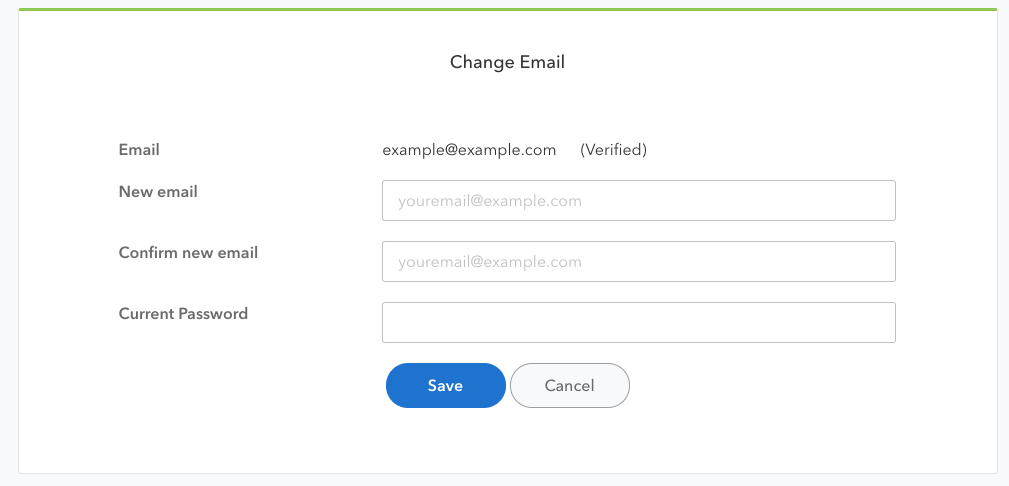 After entering your new email address and password, you will receive a confirmation email titled "Your 23andMe Email Address Has Been Changed" at your updated email address. This email includes links to a confirmation page where you can enter your account email, password, and the provided confirmation code.
Troubleshooting
If you are experiencing difficulty confirming your email address. We suggest the following:
Check your spam and trash folders for emails from donotreply@23andme.com.
Send an email to donotreply@23andme.com and contact us to resend the confirmation email.
Check your email later. There may be a delay in sending or receiving this email. Typically customers will receive the email within a few minutes but in some cases it may take up to 24 hours.
Check the spelling of the email address you provided, and make sure that the email address is able to send and receive emails.