We have temporarily disabled raw data download as an additional precaution to protect your privacy. We don't currently have a timeline for when this feature will become available but will keep customers informed of any changes.
The raw data provided by 23andMe has undergone a general quality review, however, only a subset of markers have been individually validated for accuracy. The data from 23andMe's Browse Raw Data feature is suitable only for informational use and not for medical, diagnostic, or other use. We advise that you consult with a healthcare professional before making any major lifestyle changes.
You can access your raw genetic data within your 23andMe account one of three ways:
Click on your profile name on the top right-hand corner of your homepage, and select Browse Raw Data from the dropdown menu.
Visit your Account Settings and click on "View" under 23andMe Data. You will see a blue "Download Raw Data" button which will redirect you to the download raw data page.
The main view of the Browse Raw Data feature shows the same pictorial representation of each chromosome, — including a Y chromosome, — for all users. Individuals who are genetically female do not inherit a Y chromosome and will see "not determined" for most markers found on the Y chromosome.
Downloading Your Raw Data
To download your raw data, click on the Download tab from within the top navigation bar within the Browse Raw Data feature and scroll down until you see the "Submit request" button. You will receive an email to the email address associated with your 23andMe account when your raw data download file is ready. Typically files are ready within 1 hour.
Keep in mind that 23andMe is not affiliated with any third party interpretation services and we cannot comment on another service's validity and accuracy, nor provide assistance in converting or uploading your raw data to those websites. You will need to contact the third party service for assistance with their site. It is important to understand that third parties may use your personal information differently than we do under our Privacy Statement. 23andMe cannot secure Personal Information that you release on your own. Please make such choices carefully and review the privacy policies of all parties involved in the transaction.
Utility
The text file consists of lines of your genotype call data (your A's, T's, C's and G's). Keep in mind that having your data in hand may be of limited practical usefulness, depending on how much information you can extract from the data beyond what the 23andMe site already gives you.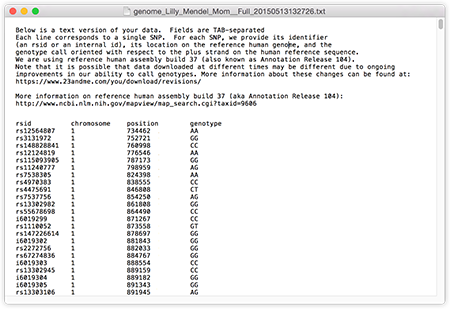 Raw Data Text Document Example
Locating Your Downloaded File
After you submit a request for your raw data file, you will be emailed when the file is ready to download. Just follow the instructions provided in the "Your 23andMe raw data download is ready!" email.
The Raw Data file will be downloaded in the form of a zipped (.zip) text file, and its name begins with the word genome. If you are having trouble locating your raw data file, try searching your computer for a file containing the word "genome". Once you have located your file in your Downloads folder or on your Desktop, you will need to double click or right click on the file to unzip it. An unzipped version of the file will then be located in your Downloads or Desktop folders.
Some computers may automatically unzip the file for you, in these cases, you will need to look for the text (.txt) file instead of the zipped (.zip) file.
Once you have located and unzipped your file, it can be opened in a text editor like WordPad or Excel.